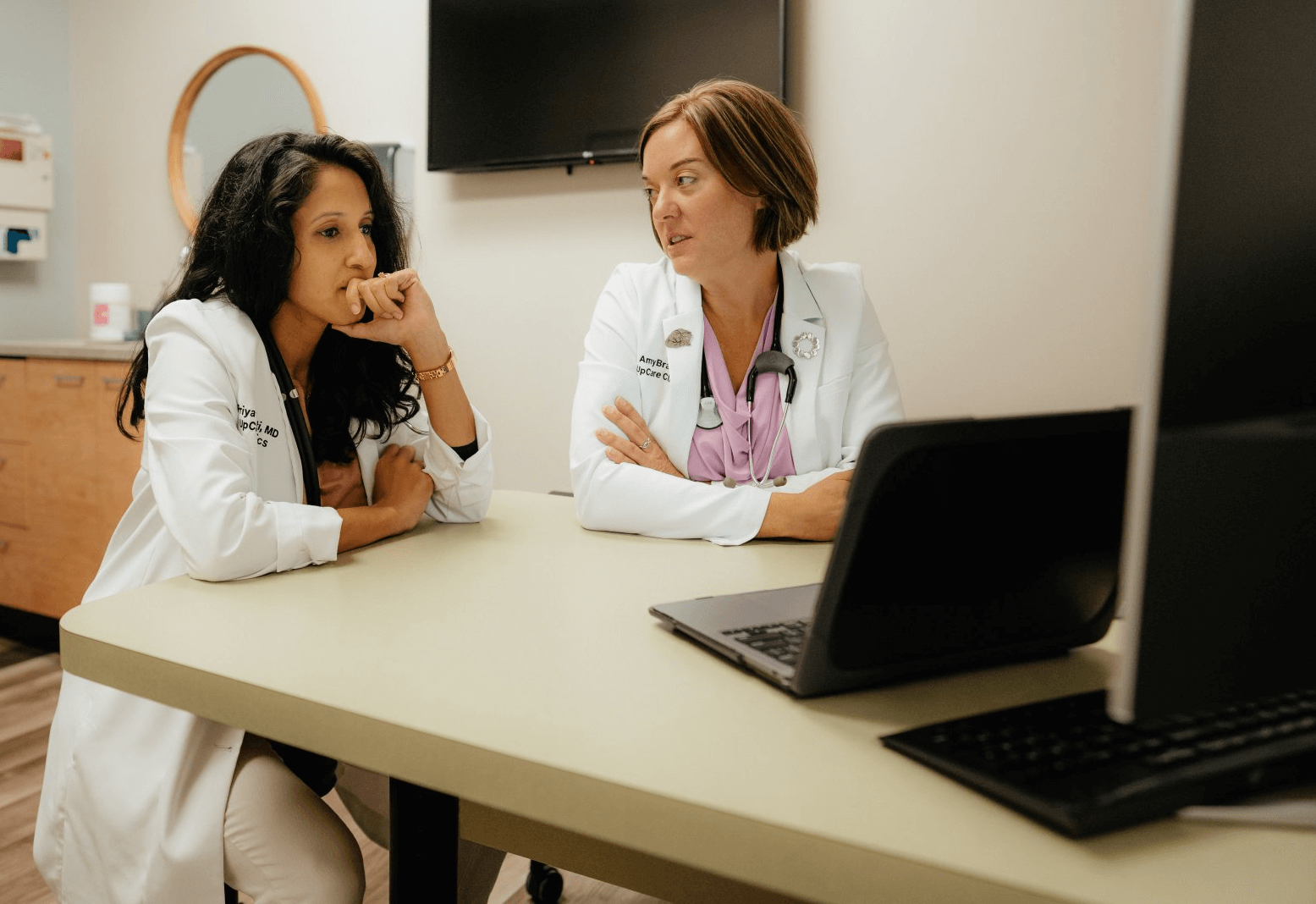 Same-Day Emergency
Dentistry in Olathe
Dentist Olathe
If you wake up with a severe toothache or knock out a tooth due to an automobile accident, sports, or work-related injury, visit an emergency dentist at UpCare Clinics in Olathe, Kansas, right away.
Taking prompt action could mean the difference between an easy fix or a more time-consuming and complex surgery. At UpCare Clinics our team provides emergency dentistry services to people of all ages.
Same-Day
Emergency Dentistry
---
Severe Toothaches
Gum Abscesses
Knocked-Out Teeth
…And More
EMERGENCY DENTAL CLINIC
We have implemented extra precautions regarding the coronavirus in addition to the universal precautions taken to protect everyone's health. Our offices are compliant with the new Department of Health guidelines.
We are offering a $99 emergency x-rays and exams for cash patients.
For existing patients, we will be accepting insurance.
Emergency Dental Care in Olathe
Gentle Care
Our team takes the fear out of going to the dentist by catering every visit to your unique needs.
Immediate Relief
We use advanced dental technology and single tooth anesthesia to provide immediate relief.
Proven Results
You'll leave your dental visit feeling supported and safe with a smile you can show off with confidence.
Emergency Dentist FAQs
What if I want to use my dental insurance?

We are in-network with most insurance plans and do all we can to make sure that you get the maximum benefits for your visit. That's why we file, track, and update your claims for you. It's our way of making your experience with us—from the front desk to the dental chair—as painless and stress-free as possible.
What if I don't have dental insurance?

No insurance? No problem! With our $99 new patient special, you get a dental exam, xrays and a cleaning!
Do you offer same-day appointments?

Yes! We offer same-day appointments for patients experiencing dental emergencies. At our office, we consider any oral issue that is causing you pain to be a dental emergency. Pain often indicates decay or an infection, so call today to book a same-day emergency appointment and get the care you need to smile again!
What is an emergency dentist?

An emergency dentist is a medical professional who specializes in caring for cracked, chipped, damaged, or knocked-out teeth. Emergency dentists like those at UpcareClinics have extensive training in oral surgery and other preservative techniques designed to keep your teeth, gums, and smile healthy.

If you or a loved one experiences a dental emergency, it's important to act quickly and call UpCare Clinics as soon as possible. The team has an emergency phone number and an on-call staff member who is available at all times.
What are some common dental emergencies?

Dental emergencies affect people of all ages, races, and genders. Some of the most common issues the team at UpcareClinics treats include:

Severe toothaches

Swollen gums

Gum abscesses

Cracked teeth

Chipped teeth

Knocked-out teeth

Loose teeth

Lacerations

Uncontrollable bleeding

Broken braces

Damaged prosthetics (crowns, bridges, or implants)

You might also benefit from meeting with an emergency dentist if you get a foreign object lodged between your teeth, such as a toothpick or a piece of food.
If I lose a permanent tooth, what steps should I take?

If you lose a permanent tooth while playing sports or working, stay calm and pick up the tooth by the top of the crown. Next, rinse the tooth off in tap water to eliminate any dirt or debris. Then, place your tooth back in its socket. If the tooth won't stay in place, you can put it in a glass of milk or tuck it inside your cheek.

Once the tooth is secure, call the team at UpCare Clinics to schedule a same-day emergency dentistry appointment. When you speak with a staff member, explain the events responsible for your tooth loss. The team will get you in for an appointment. They may also provide you with tips to limit pain or bleeding on your way over.
Is there any way to prevent the need for an emergency dentist?

Unfortunately, there's no way to prevent the need for an emergency dentist. Accidents and injuries happen, often when you least expect. That said, there are steps you can take to lower your risk.

If you play contact sports like hockey, football, or basketball, always wear a mouthguard. If you grind your teeth or clench your jaw during sleep, wear a nightguard. You can also lower your risk of a dental emergency by avoiding bad habits. Try to avoid biting your fingernails and chewing on ice cubes, hard candies, or popcorn kernels.

Taking these preventive measures can significantly lower your risk of an accident or injury that harms your teeth, gums, or tongue.

Cavities and gum disease that require emergency treatment are also preventable. Visiting the team at UpCare Clinics for bi-annual exams and professional cleanings can significantly lower your risk of complications.

If you or a loved one needs to see an emergency dentist, schedule an appointment at UpCare Clinics. Call the office and speak with a team member or book a consultation online today.
What is emergency dentistry and when do you need it?

Emergency dentistry is a term used to describe the dental services that are needed when a person experiences a dental emergency. A dental emergency can include a toothache, a lost tooth, a broken tooth, or any other dental emergency that requires immediate attention.

People typically need emergency dentistry services when they experience a dental emergency that cannot wait. For example, if you have a broken tooth and the bone is exposed, you will likely need to see an emergency dentist right away to prevent infection. Similarly, if you have a severe toothache, you may need to see an emergency dentist get relief from the pain.
How to prepare for your dental emergency appointment?

If you need emergency dentistry services, be sure to call Upcare Clinics as soon as possible to schedule an appointment. We understand that emergencies can happen at any time, and we will do our best to accommodate you.

When you come in for your appointment, we will need to know what is causing the emergency. This will help us provide the best possible care for you. Please bring any dental records or x-rays with you to your appointment.

We also suggest that you arrive early so that we can get started on treating your emergency right away.

Tips for taking care of your teeth after an extraction or other procedure.

If you have recently had a tooth extraction or other dental procedure, it is important to take care of your teeth and gums to prevent infection and other complications. Here are a few tips for taking care of your teeth after an extraction:

Be sure to rinse your mouth with warm water several times a day, especially after eating.
Avoid drinking through a straw, as this can cause suction and increase the risk of infection.
Take ibuprofen or acetaminophen as needed to help relieve pain.
Brush your teeth gently, using a soft toothbrush.
Avoid biting down on the affected area until it has healed.
See your dentist for follow-up care.

Following these tips can help ensure that you recover quickly and safely from your emergency dental procedure.
See What Our Patients Have to Say
"This place is AMAZING. Dr. SHIVAM is awesome. Made me feel extremely comfortable. I'm not a fan of going to the dentist. Even asked what kind of music I like to listen to and played it during my procedure!"
Melissa
"Very happy with the care, everyone was so nice and my Dr. went above and beyond listening to my concerns and helping me figure out the best treatment plan for me. Highly recommend."
Tara
"I had the most refreshing experience! As an older adult with a deep fear of dentist since childhood, this was like nothing I have ever experienced before!"
Michelle