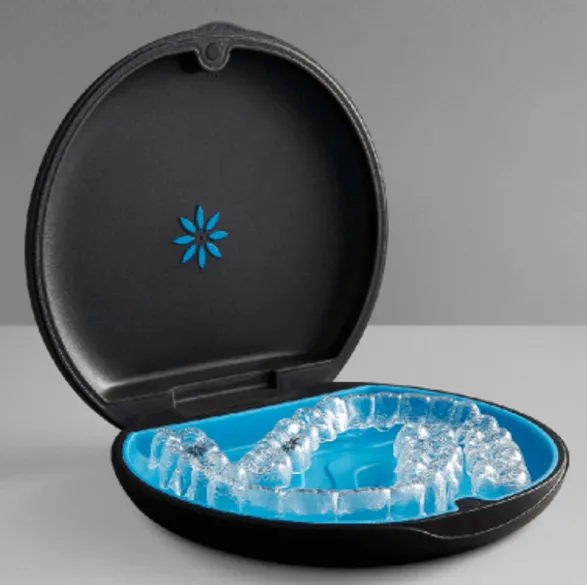 Invisalign® & Orthodontics in Olathe, KS
Dentist Olathe
If you're unhappy with the alignment of your teeth, consider orthodontic treatment with Invisalign®.
This advanced treatment technique can transform your smile, boosting your confidence and self-esteem.
The team at UpCare Clinics in Olathe, Kansas, uses Invisalign® oral aligners to correct mild and moderate orthodontic issues.
Invisalign® Q & A
What is Invisalign®?
Invisalign® is a type of orthodontic treatment that uses a series of clear aligners to straighten your teeth gradually. Unlike traditional braces, you don't have to worry about brackets, wires, or rubber bands.
Invisalign® aligners feature an FDA-approved thermoplastic called SmartTrack®. SmartTrack® is free of BPA, BPS, latex, and gluten, making it ideal for people with allergies or sensitivities.
Invisalign® aligners are nearly invisible. This allows you to receive orthodontic treatment in a discreet, comfortable way. They're also removable, which means you can consume your favorite foods and beverages, including foods like popcorn or candy, which you typically can't eat when you have traditional braces.
What are some of the problems Invisalign® aligners can treat?
Invisalign® aligners are incredibly versatile. The team at UpcareClinics usually prescribes them to treat mild and moderate orthodontic issues, including:
Crooked teeth
Crowded teeth
Open bite
Underbite
Overbite
Jaw misalignments
Invisalign® aligners can also correct gaps or spaces between your teeth.
How does Invisalign® treatment work?
Invisalign® treatment begins with a consultation at Upcare Clinics. During the appointment, your provider conducts an oral exam, asks about your treatment goals, and reviews your oral health history. They evaluate your smile and take digital impressions of your teeth.
Your provider uploads the digital impressions to a computer program that maps out a precise, customized treatment plan. After approving the treatment plan, your provider sends your impressions to a laboratory that manufactures your Invisalign® aligners.
You return to Upcare Clinics about a week later to try your first set of aligners on. Make sure to wear your aligners 20-22 hours each day. Every two to three weeks, you change into a new set of aligners. Each set gently and gradually shifts your teeth into place.
How long does Invisalign® treatment take?
The length of Invisalign® treatment varies depending on the severity of your orthodontic issues and your individual goals.
Most people achieve their desired results in 12-18 months, but you may need longer.
Following Invisalign® treatment, you need to wear a retainer. This custom oral appliance prevents your teeth from moving out of place.
Make sure to follow your provider's instructions during treatment and attend all of your follow-up appointments.
Don't let crooked or crowded teeth prevent you from smiling confidently. Invest in clear aligners done right, by a dentist.
To schedule an Invisalign appointment at UpCare Clinics, call the office or book a consultation online today.